TRADITION
.
RIVALRY
.
EXCELLENCE
.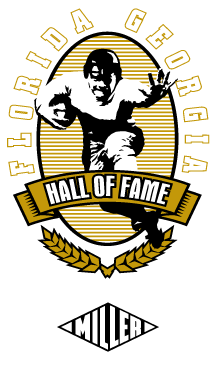 FLORIDA-GEORGIA
HALL OF FAME
The City of Jacksonville Division of Sports and Entertainment created the Florida-Georgia Hall of Fame to acknowledge the many great records, performances, career highlights and outstanding memories that have made the Florida-Georgia game one of college football's best traditions.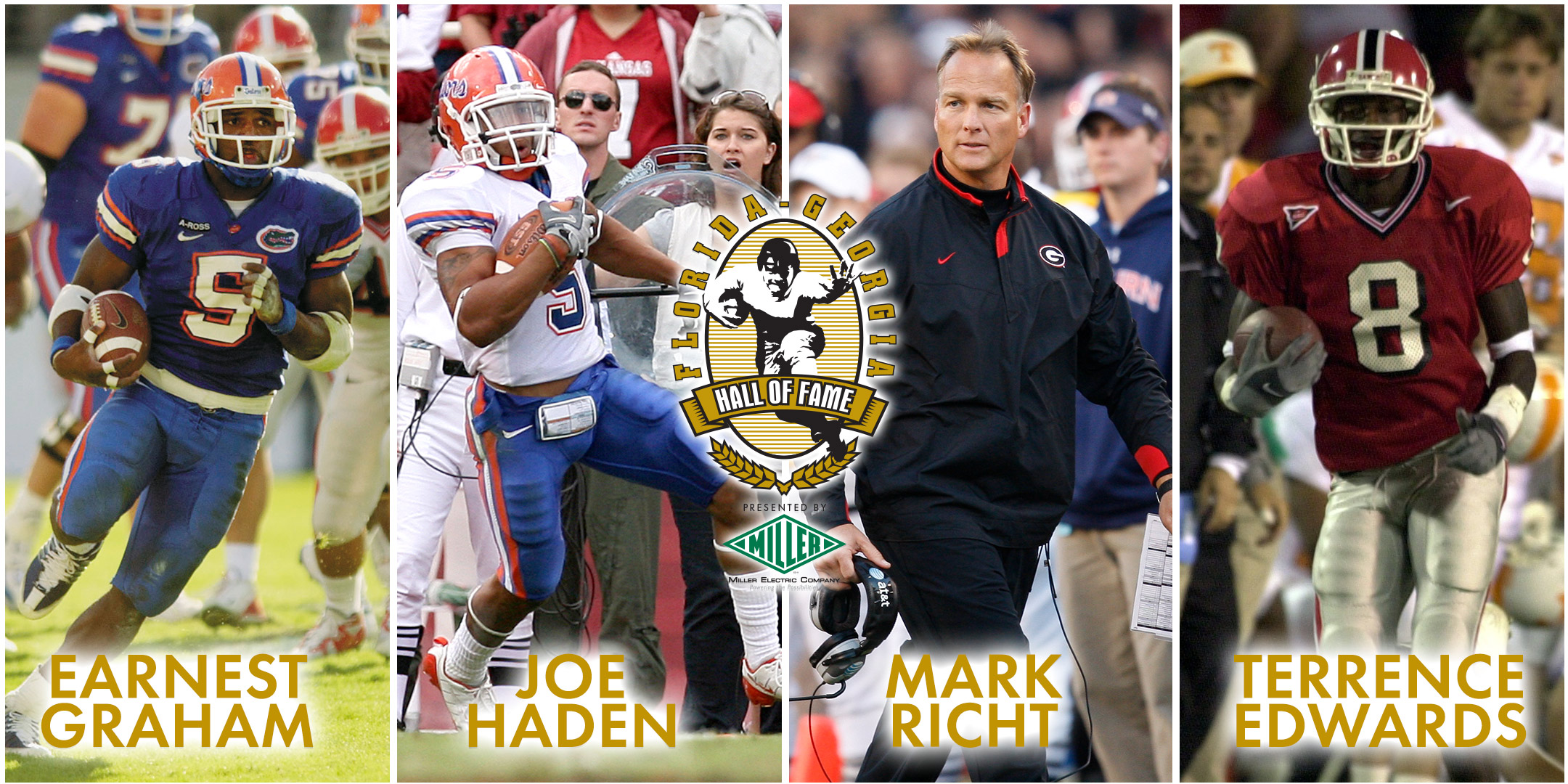 FLORIDA-GEORGIA HALL OF FAME CEREMONY AND LUNCHEON
presented by Miller Electric
Date & Time: Friday, October 27th at Noon
Location: East Club at EverBank Stadium
Another excellent class is set for induction into the 2023 Florida-Georgia Hall of Fame. The Induction Ceremony and Luncheon presented by Miller Electric Company will take place on Friday, October 27th. During the luncheon, fans can be front and center as two past team members from each university are inducted to the Florida-Georgia Hall of Fame. This year Joe Haden and Earnest Graham from the University of Florida will be inducted alongside Terrence Edwards and former head coach, Mark Richt, from the University of Georgia.
Individual tickets and tables are available for purchase now: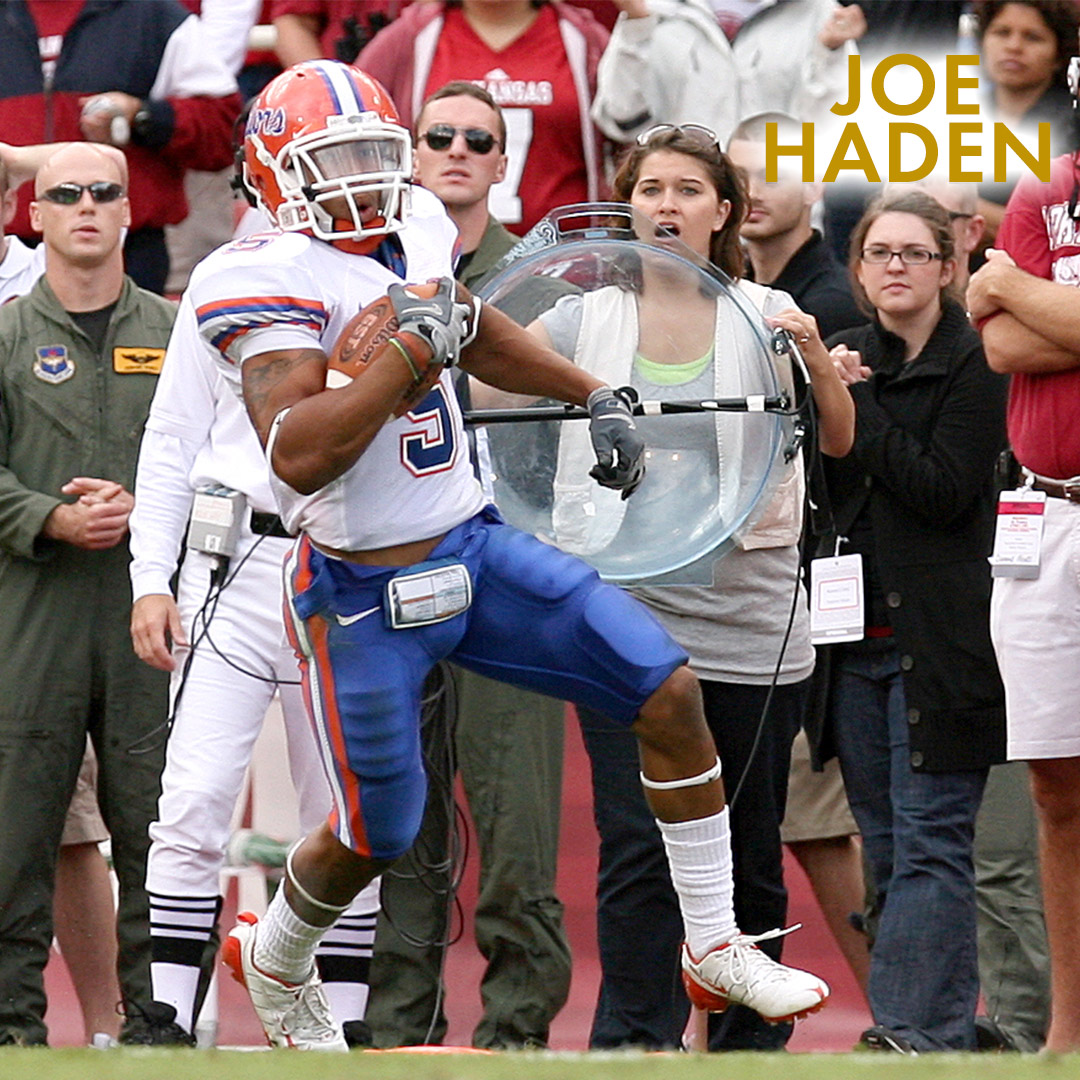 Joe Haden, the tenth overall pick in the 2010 NFL Draft by the Cleveland Browns, made history as the first true freshman to start at cornerback on UF's opening day in 2007. A stalwart presence, he started all 40 games at cornerback for the Gators, concluding his college career with impressive stats: 218 total tackles, 157 solo, 34 pass breakups, eight interceptions, and 3.5 sacks. After a successful seven seasons with the Browns, Haden showcased his talents with the Pittsburgh Steelers through the 2021 season. In a fitting conclusion, he announced his retirement on September 21, 2022, signing a one-day contract with the Cleveland Browns.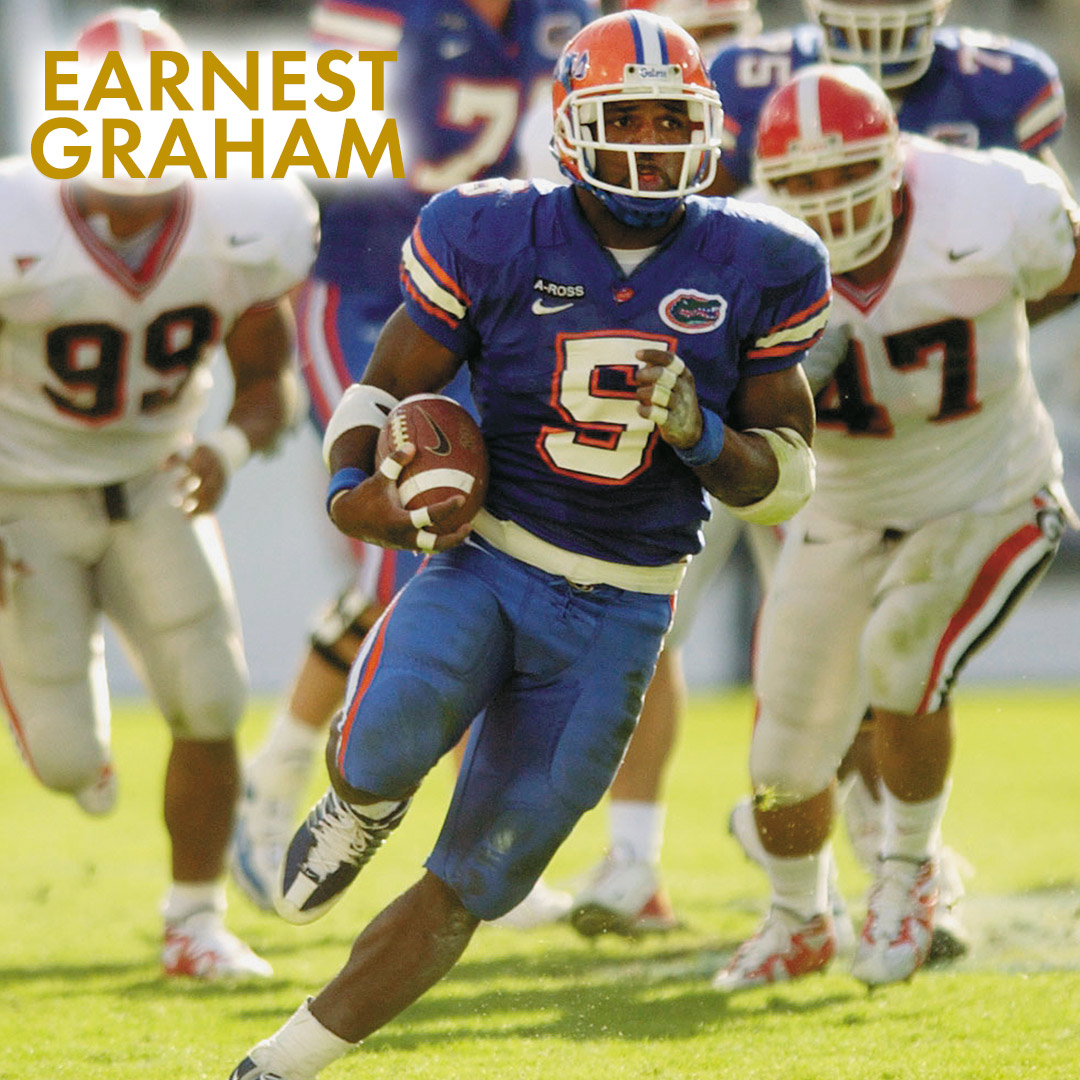 Earnest Graham Jr. emerged as one of Florida's premier running backs. He holds a prominent place in school records with 33 rushing touchdowns (third all-time) and 3,065 career rushing yards (fifth). His versatility extends to 3,468 all-purpose yards (ninth) and nine career 100-yard rushing games, tying for fifth in school history. A key player in multiple seasons, he led the 1999 squad with 654 yards, the 2001 team with 650 yards, and the 2002 team with 1,085 yards. His diverse skill set also includes 59 catches for 403 yards and a unique moment completing 1-of-5 passes for three yards and a touchdown. Recognized with honors like Second-team All-SEC in 2001 and Third-Team Freshman All-America in 1999, he stands as the sole player in school history with three 100-yard rushing games and an average of 135 yards per bowl game. Graham's stellar contributions earned him UF's "Most Outstanding Running Back" award thrice. Transitioning to the NFL, Graham signed with the Tampa Bay Buccaneers in 2003 and remained with the team through 2011.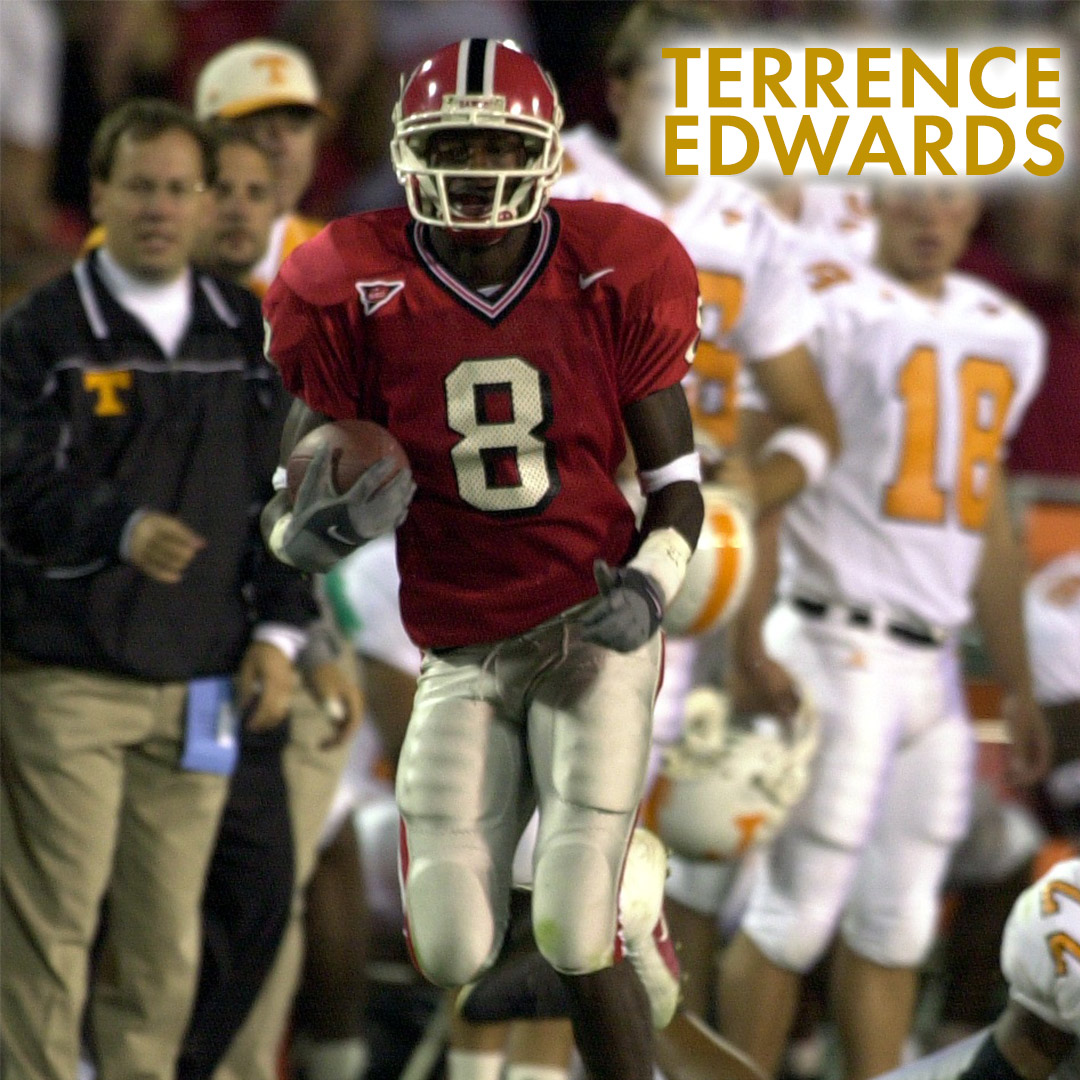 Terrence Edwards left an indelible mark during his four-year tenure with the Georgia Bulldogs. Starting under coaches Jim Donnan (1999-2000) and Mark Richt (2001-02), Edwards dominated, leading the team in receiving for four consecutive seasons. His senior year showcased record-breaking achievements, including most career receptions (204), single season receiving yards (1,004 in 2002), career receiving yards (3,093), and career touchdown receptions (30). Recognized as a consensus All-SEC first-teamer in 2002, Edwards continued his success in the NFL with the Atlanta Falcons before a nine-season stint in the CFL, ultimately retiring with 508 receptions, 7,637 yards, and 47 touchdowns. His football legacy culminated in his 2017 induction into the Winnipeg Football Club Hall of Fame.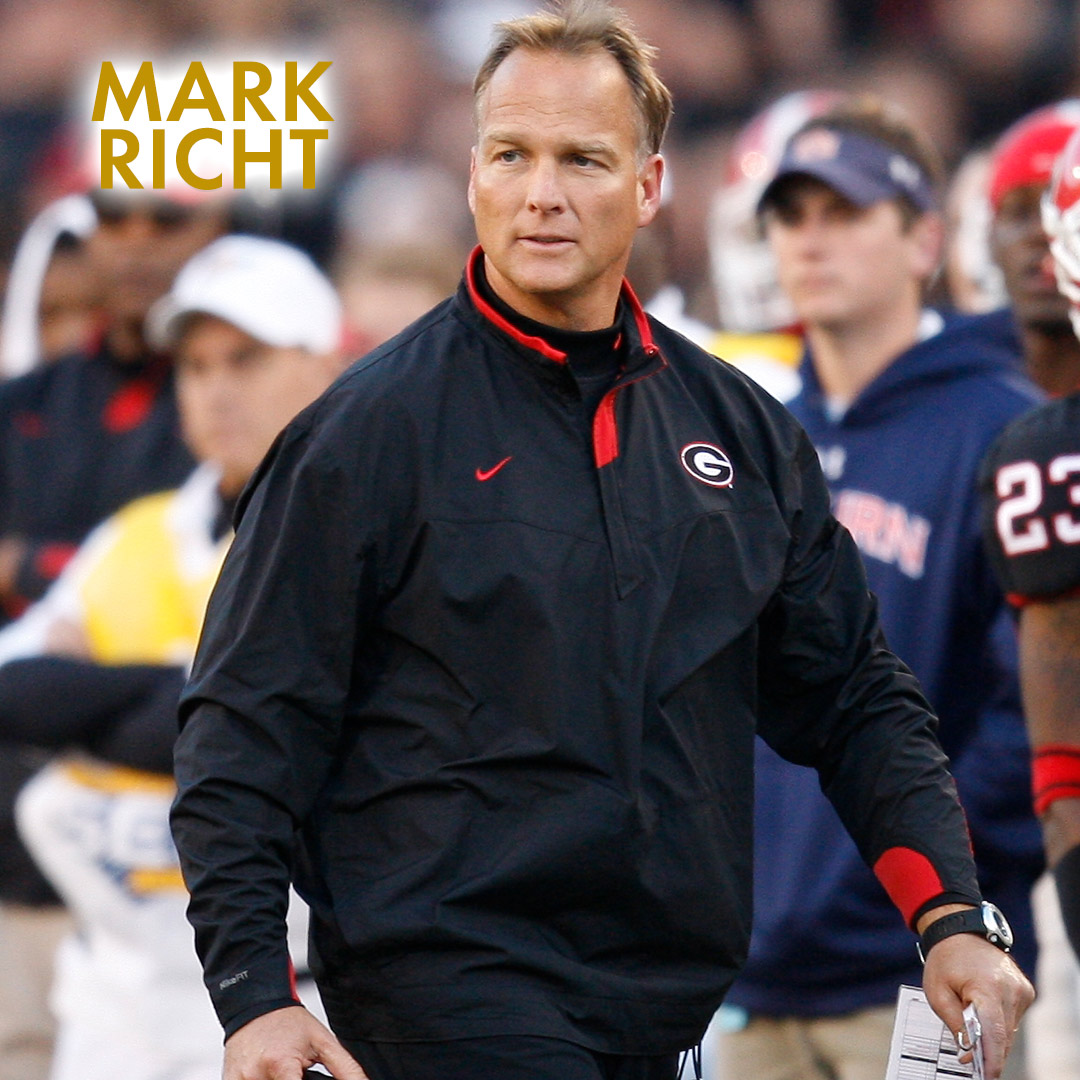 Mark Richt, a revered figure in college football, is not only a dedicated husband and father but also a motivational speaker, philanthropist, and author. During his UGA tenure from 2001-2015, Richt achieved a remarkable record of 145-51 (.738). He was named SEC Coach of the Year in 2002 and 2005, led the team to two SEC championships, five SEC championship game appearances, and an impressive 15 consecutive bowl games (10-5). Richt's coaching prowess positioned him among the rare few in NCAA Division I-A history to secure 135 or more wins in his first 14 seasons.  Twenty-four of his players went on to play in the Super Bowl. Currently serving as a studio analyst for the ACC Network, Richt boasts a storied coaching career with significant stints as head coach at the University of Miami and as an assistant for the Florida State Seminoles in addition to his time at the University of Georgia. As a testament to his coaching prowess, Richt received numerous accolades, including 2017 ACC Coach of the Year, and the prestigious 2017 Walter Camp Coach of the Year Award. Recently inducted into the Chick-fil-A Peach Bowl Hall of Fame, the 2023 Georgia Sports Hall of Fame, and the 2023 College Football Hall of Fame, Richt's impact extends beyond the field.
Kerwin Bell (1996)
Ray Graves (1996)
Shane Matthews (1996)
Steve Spurrier (1996)
Danny Wuerffel (1997)
Jack Youngblood (1997)
Rick Casares (1998)
Larry "Dupe" Dupree (1998)
"Chuck" Hunsinger (1998)
Charles LaPradd (1998)
Richard Trapp (1998)
Fred Taylor (2008)
Carlos Alvarez (1999)
Jimmy Dunn (1999)
Joe Brodsky (2000)
Howell Boney (2000)
Chris Doering (2001)
John Reaves (2001)
Norm Carlson (2002)
Ricky Nattiel (2002)
Buford Long (2003)
Errict Rhett (2003)
Wes Chandler (2004)
Reidel Anthony (2004)
Jeremy Foley (2005)
Don Gaffney (2005)
Ike Hilliard (2006)
Lee McGriff (2006)
Galen Hall (2007)
Doug Johnson (2007)
Willie Jackson Jr. (2008)
Rex Grossman (2009)
Lawrence Wright (2009)
Scot Brantley (2010)
Wilber Marshall (2010)
Kevin Carter (2011)
Nat Moore (2011)
Doug Dickey (2012)
John L. Williams (2012)
Lindy Infante (2013)
Jevon Kearse (2013)
James Bates (2014)
Louis Oliver (2014)
Jabar Gaffney (2015)
Chris Leak (2015)
Jeff Chandler (2016)
Ben Troupe (2016)
Lito Sheppard (2017)
Tim Tebow (2017)
Alex Brown (2018)
Percy Harvin (2018)
Brandon Spikes (2019)
Jarvis Jones (2019)
Ciatrick Fason (2021)
Keiwan Ratliff (2021)
Trey Burton (2022)
Andre Caldwell (2022)
Vince Dooley (1996)
Buck Belue (1996)
Frank Sinkwich (1996)
Herschel Walker (1996)
Terry Hoage (1997)
Lindsay Scott (1997)
Wally Butts (1998)
Jake Scott (1998)
Bill Stanfill (1998)
Tommy Thurson (1998)
Charley Trippi (1998)
Richard Appleby (1999)
Matt Robinson (1999)
Mike Cavan (2000)
John Rauch (2000)
Charley Britt (2001)
Robert Edwards (2001)
Bob Etter (2002)
Ray Goff (2002)
Kevin Butler (2003)
George Patton (2003)
Larry Munson (2004)
Erk Russell (2004)
Cy Grant (2005)
Kevin McLee (2005)
Rodney Hampton (2006)
Willie McClendon (2006)
Dan Magill (2007)
Tim Worley (2007)
Gene Washington (2008)
Eric Zeier (2008)
Garrison Hearst (2009)
David Pollack (2009)
Knox Culpepper (2010)
Zek Bratkowski (2010)
John Brantley (2011)
Bill Saye (2011)
David Greene (2012)
Charles Whittemore (2012)
Peter Anderson (2013)
Matt Stinchcomb (2013)
Pat Dye (2014)
Ben Zambiasi (2014)
Rex Robinson (2015)
Richard Seymour (2015)
Marcus Stroud (2016)
Scott Woerner (2016)
Randall Godfrey (2017)
Knowshon Moreno (2017)
Aaron Murray (2018)
Boss Bailey (2018)
Brad Culpepper (2019)
Rennie Curran (2019)
Thomas Davis (2021)
Jon Stinchcomb (2021)
Champ Bailey (2022)
John Little (2022)